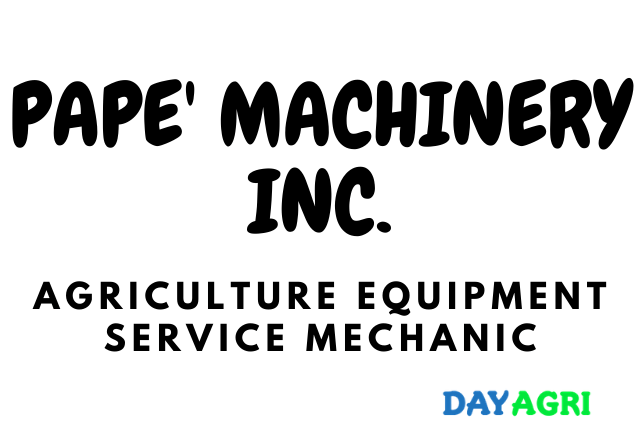 Agriculture Equipment Service Mechanic: PAPE' MACHINERY, INC. – AGRICULTURE & TURF DIVISION – PONDERAY, ID
AGRICULTURE EQUIPMENT SERVICE MECHANIC:
This diesel engine technician position will diagnose and repair agricultural equipment and/or small engines. Basic duties and responsibilities include but are not limited to:
The basis for analyzing and diagnosing (troubleshooting) complex equipment faults or malfunctions.
Repair, replace and/or rebuild engines, gearboxes, final drives, steering, clutches, hydraulic components, electrical systems and air conditioning systems.
Determine the correct parts required to complete the task and order from the parts department in time, and return all unused parts in time.
Maintain driving records in accordance with state law.
Communicate with customers on all aspects of the work being performed in a polite and effective manner.
More than three years of working experience in small engines and agricultural equipment, experience and knowledge in mechanical, electrical, hydraulic systems, and air-conditioning systems are preferred. Must be self-motivated and able to work without direct supervision. You must bring your own tools.
Why work for Pape:
Competitive salary based on your skills, training and experience level
Prominent benefits include – 401(k) retirement plan matching with the company; medical, dental, vision, and prescription insurance; flexible spending account (Flex plan); life insurance; short-term and long-term disability insurance; progressive vacation plan; online and instructor guidance Training; tuition reimbursement for a training plan
Progress-Pape is a dynamic, growth-oriented organization focused on "promoting from within."
Stability and reputation pape is a family-owned fourth-generation company with more than 130 locations, more than 3,600 members, and more than 80 years of experience. Pape is known for its stability, honesty, and integrity.
Equipment-We have the largest equipment inventory and unparalleled parts inventory in the West!
Employee influence-enjoy the open policy, your voice will be heard, and your opinion will be very important.
Training-You will receive training and guidance to prepare for your role and continue to learn to improve your skills.
Qualifications:
behavior
Detail-oriented: able to perform the given task and all the details needed to complete the task
Dedicated: committed to a task or purpose with loyalty or integrity
motivation
Self-initiated: be inspired without outside help
Licenses and certifications
driving license
Equal opportunity employers/protected veterans/disabled persons
Contractors will not dismiss or discriminate against employees or job applicants in any other way for asking, discussing or disclosing their own or other employees or job applicants' compensation. However, as part of their basic job functions, employees who have access to the salary information of other employees or job applicants shall not disclose the salary of other employees or job applicants to individuals who cannot obtain salary information in other ways, unless the disclosure is (a) a response A formal complaint or allegation, (b) facilitates investigations, litigation, hearings or actions, including investigations conducted by employers, or (c) is consistent with the contractor's legal obligation to provide information. 41 United States Code of Federal Regulations 60-1.35(c)
Benefits:
401(k)
401(k) match
Dental insurance
Disability insurance
Flexible spending account
Health insurance
life insurance
Paid vacation
Professional development assistance
Retirement plan
Tuition reimbursement
Vision Insurance