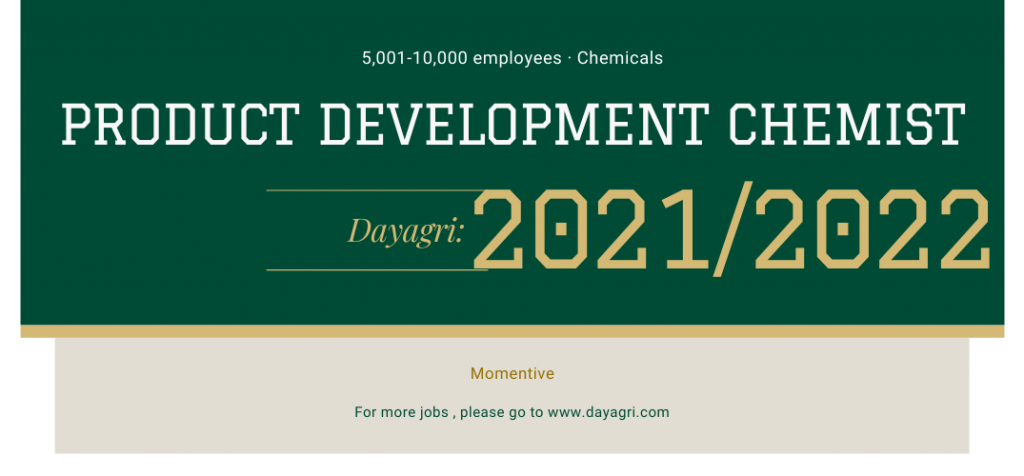 Momentive Job Description:
Plan and execute laboratory experiments, including DOE, to support the development of new adjuvant products and formulations
Use different types of analysis (such as surface tension, contact angle, foam volume, particle size, etc.) to physically characterize products and formulations
Plan and perform laboratory spray tests to evaluate experimental adjuvants
Work with analytical teams to characterize new polymers, copolymers and formulations
Provide technical support for complex quality issues and verification of new raw materials or new sources of existing raw materials
Prepare and ship samples of existing and new products for field trials, customer evaluations, toxicology testing and external laboratory testing
Organize laboratory research data using Microsoft OneDrive, Microsoft SharePoint, and electronic laboratory notebooks
Clear communication with internal and external customers, including generating and presenting technical reports
Assist customers in training courses by running demonstration experiments, explaining the technology used, and helping to prepare training materials
Generate technical data for competitive marketing analysis, product literature and verification of new product performance
Run internal equipment calibration and maintain an organized tracking record that meets ISO9001 requirements
This is a laboratory-based position, but can sometimes require up to 10% of domestic travel.
Momentive Qualifications:
Additional details:
Bachelor degree in chemistry, chemical engineering, agronomy, or related science
Reliable records of safe laboratory operations, experimental design and execution, and statistical analysis
Preferred qualification
Industrial experience in formulation, chemical analysis and physical characterization
Agricultural formula development experience
Working knowledge of agricultural spray applications and crop protection products
Physiological needs/working environment The physiological needs and working environment characteristics described here represent the needs and working environment characteristics that employees must meet to successfully complete the basic functions of this work. When performing the duties of this job, employees often need to sit, stand, bend, bend, squat, twist, turn, and lift. And walk around the facility. Need to walk, walk on irregular surfaces and maintain balance. Requires the ability to reach, feel, finger movement, grasp, hear, vision, and speak clearly. Regularly lift, carry, push and pull weighing up to 50 pounds. Ability to wear personal protective equipment; most positions require the ability to pass a suitability test and wear a respirator. The environment of this position is a laboratory environment. Candidates should be able to adapt to the traditional business environment. Reasonable arrangements can be made to enable persons with disabilities to perform basic functions.
We are an equal opportunity employer. All eligible applicants will be considered for employment, regardless of race, color, religion, gender, sexual orientation, gender identity, national origin, disability, or protected veteran status.
In order to be considered for this position, candidates must submit an employment application through our career website, be at least 18 years old, be willing to undergo drug testing and submit a background check as part of the selection process.
If you are currently an employee of this company, your current job performance must be satisfactory, and in most cases, you have been in your current position for 18 months.
We work with carefully selected external suppliers to provide us with specific employment opportunities. Momentive currently does not seek or accept any active help from search and selection companies or employment agencies. Please do not contact any of our employees about this position by phone, email or other means. Please note that Momentive is not obliged to pay any fees or expenses for candidates' resumes submitted without a valid written and signed search company agreement.