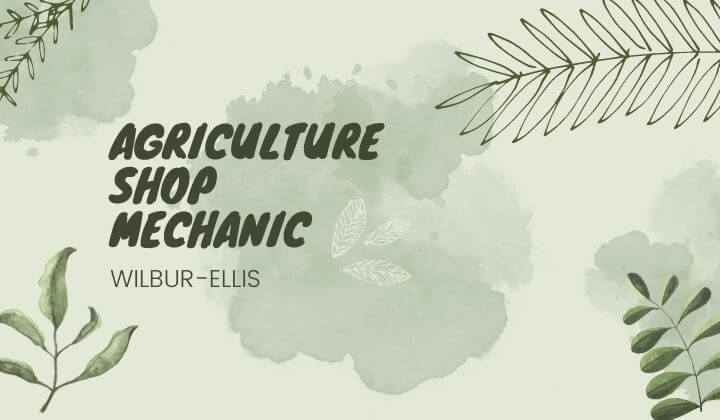 Job: Agriculture Shop Mechanic Wilbur-Ellis
Are you familiar with agricultural operations and performing repair/maintenance of light to medium trucks and agricultural equipment? Do you have general mechanical skills such as oil change, brakes, air conditioning, etc.? Can you bend and lift boxes and bags weighing up to 65 pounds? If your answer to all these questions is yes, we hope to hear from you!
For nearly a century, Wilbur-Ellis has achieved success and growth in the marketing and distribution of agricultural products and services. Join us and develop your career with a strong and profitable industry leader who offers competitive compensation, huge growth and development opportunities, and a people-oriented work environment. Come and grow up with us!
Agriculture Shop Mechanic Skills:
High School Diploma or equivalent
Clean and valid driver's license with CDL and tanker endorsement. Or willingness to obtain one.
Knowledge and/or experience with agricultural operations (preferred).
Knowledge and/or experience with trucks and heavy agriculture equipment.
Requires excellent interpersonal skills with customers and fellow employees.
Willingness to operate material handling equipment including skid steer bucket and forklift, pallet jack, and other equipment as required.
Ability to bend and lift boxes and bags up to 65 lbs.
Willing and desire to work overtime hours during busy seasons.
Key Personal Attributes Include:
Maintain a neat appearance and convey professionalism with customers.
Willingness to work as a team and assume any task when requested.
Possess quality decision-making capability and mental alertness to ensure safety.
Must be reliable and punctual when reporting to work.
Strong oral and written communication skills.
High level of professionalism.
Excellent attention to detail.
Agriculture Shop Mechanic Responsibilities
Safe operation of a company vehicle.
Location Shop Mechanic to provide mechanic services to both trucks and heavy agriculture equipment.
Make sure vehicles are ready for vehicle safety inspections.
Maintain up-to-date vehicle maintenance and service files.
Maintain mileage and fuel logs on all vehicles.
Meet and complete all WECO regulatory safety requirements.
Attend product training sessions and meetings when necessary.
The person should be versatile, flexible, and willing. Can effectively multi-task.
Able to work and contribute to a team approach with a positive attitude and outlook.
Help maintain shop/warehouse/yard cleanliness.
Notify Branch Manager immediately of equipment issues and product spills.
Present a professional image to our customers through personal appearance and overall branch cleanliness.
All other duties as assigned.
Compensation and Benefits:
Competitive hourly wage (to be determined based on experience and other factors)
Comprehensive company benefits