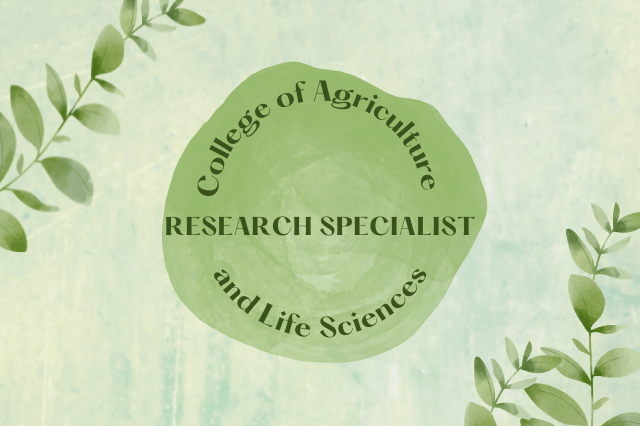 Research Specialist North Carolina State University Bahama, NC
Release number: PG191186SP
Internal recruitment: No
job title: Research Specialist
Expected hiring scope: Appropriate to experience ($41,000-$45,647)
Work schedule: Monday-Friday / 7:00 am-3:30 pm (weekends and holidays as needed)
Location: Bahamas, North Carolina
Department: College of Agriculture and Life Sciences
Research Specialist:
The Butner Beef Cattle Field Lab (BBCFL) is a 1,250-acre research unit located about 50 miles north of the campus and has 9.5 full-time employees. BBCFL is a research platform for beef cattle research, including nutrition, physiology, genetics, pest control, pasture management, crop production, and related fields. BBCFL serves as a training and demonstration area for graduate students and the public.
Essential Job Duties:
Research experts will oversee and manage the nutrition/physiology department of Butner Beef Cattle Field Lab. The unit can accommodate 350 cattle, and 2-6 projects are in progress throughout the year.
The responsibilities of research experts include but are not limited to:
Through cattle observation, equipment operation, feed ration development, and other monitoring research projects.
Manage the daily operations of beef cattle research facilities.
Design and assist research projects to ensure the efficiency of the facility.
Oversee the use of Calan Gates for intensive research trials.
Supervise the nutritional physiology waste system to ensure compliance with the waste management plan.
Manage the collection of feed data from professional breeding equipment for review by the project leader.
Supervise data collection in various fields related to cattle/crop research.
Train others in cattle handling, feeding procedures, data collection, and various techniques related to cattle production and cattle research.
Acting as the liaison between the project leader and the webmaster to ensure that cattle resources are available.
Coordinating cattle resources across the state among the seven NCSU and NCDA research stations.
Other Responsibilities:
Assist crop production, especially hay and corn.
General maintenance and maintenance of the overall facility.
Assist the bull test facility when needed.
Perform other duties as assigned.
Required Qualifications:
A bachelor's degree in a discipline related to the distribution field; or an equivalent combination of training and experience.
All degrees must be obtained from an appropriately accredited institution.
Have agricultural work experience and animal care experience.
Able to perform artificial insemination and assist in dystocia.
Proficient in cattle software programs.
Proficiency in performing routine herd health procedures.
Ability to effectively communicate verbally and in writing.
Bachelor degree in animal husbandry, 2 years of work experience.
1-3 years of agricultural work experience and animal care experience.
5 years of experience in beef cattle production and/or research.
An equivalent combination of education and experience will be considered.
Have general agricultural equipment operation experience.
Have experience in beef cattle research.
Research Specialist Required License:
A valid driver's license is required to travel. An NC driver's license is required within 60 days of employment and must be maintained.
Pesticide application permit within 6 months after the employment date
Artificial insemination (AI) certification of beef cattle within 6 months from the date of employment
Animal waste applicator license within 12 months from the hire date
A valid NC driver's license is required: Yes it is
Do I need a commercial driver's license?: NO