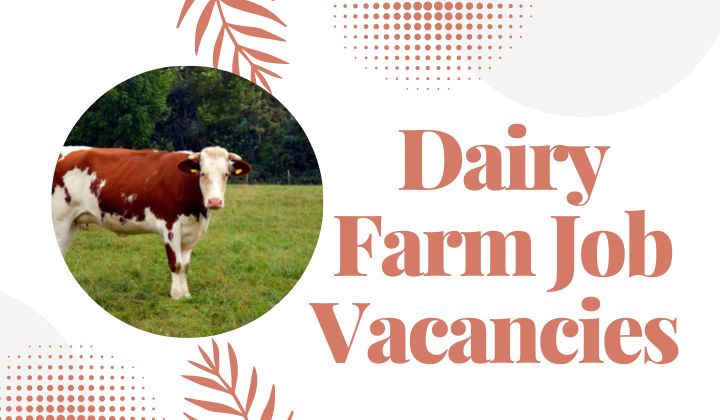 Job Position: Dairy Farm Worker Canada
Location: Woodstock, ON, N4S 0A1, Canada
Employment type: Full Time
Salary: $18–$21 hourly for 40 to 60 hours per week
Dairy Farm Worker Canada Role:
No degree, certificate or diploma
7 months to less than 1 year
Beef cattle ranching and farming, including feedlots
Corn farming
Hay farming
Livestock combination farming
Noisy
Dusty
Staff accommodation available
Rural area
Farm
Responsibilities
Calving
Farm animal grooming
Handling animals
Milking goats
Monitoring animal health
Harvest crops
Feed and tend animals
Operate and maintain farm machinery and equipment
Milk cows
Clean stables, barns, barnyards and pens
Detect disease and health problems in crops, livestock and poultry
Write daily basic progress reports
Perform general farm duties
Clean and maintain equipment
Experience and specialization
Type of crops
Equipment and machinery experience
Haying equipment
Lift truck
Loader
Sprayer or duster
Tractor
Vegetable harvester
Automated systems experience
Automated irrigation system
Bulk grain or feed handling – automated
Milking system (automated)
Automated environmental control equipment
Storage and silage system
Dairy Farm Worker Canada Additional information
Security and safety
Personal suitability
Efficient interpersonal skills
Flexibility
Judgment
Organized
Team player
Screening questions
Are you available for shift or on-call work?
Are you willing to relocate for this position?
Do you have previous experience in this field of employment?
What is the highest level of study you have completed?
How To Apply?
Apply Now, and Also Check other Farm jobs in Canada Here