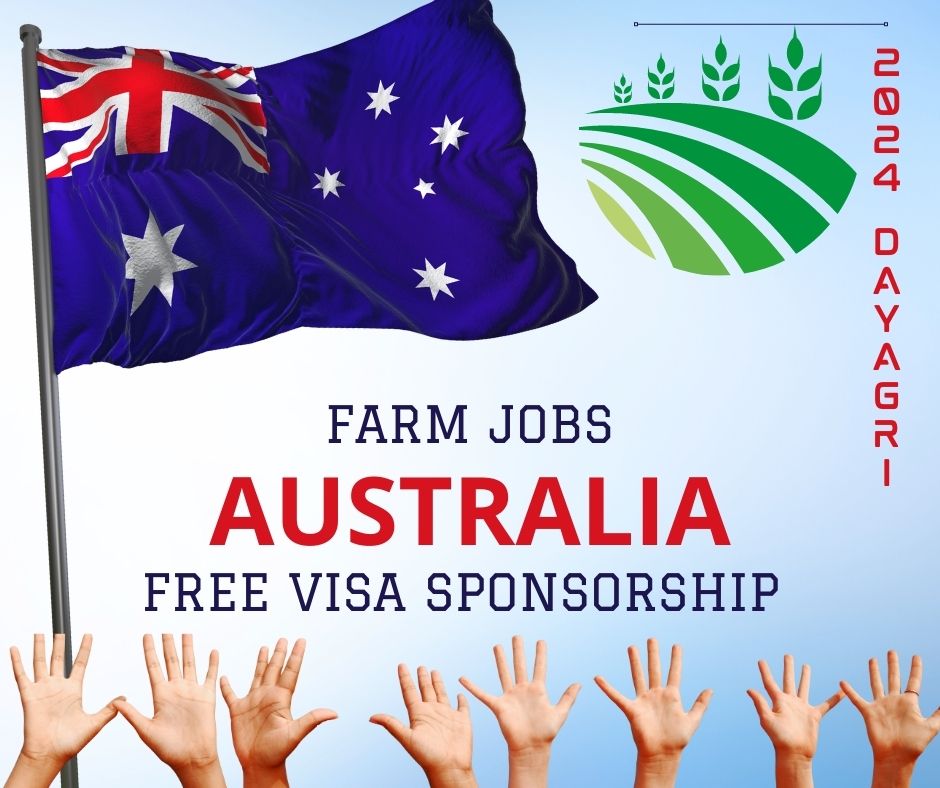 If you would like to embark on an exciting new adventure and work in a thriving agribusiness in Australia, a free visa sponsored farm job in Australia could be the perfect opportunity for you! In this comprehensive guide. We explore all aspects of working in Australia's agricultural sector, including visa sponsorship options. The types of agricultural jobs available, and tips for finding and applying for these positions. Get ready to find out how our expert advice and insights can boost your farming career in Australia.
Is it possible to find farm jobs in Australia with visa sponsorship for free?
While it is possible to find farm jobs in Australia with visa sponsorship, it is unlikely to find free visa sponsorship. Sponsored visas typically require the employer to cover the costs associated with sponsoring a foreign worker. Such as visa application fees and potential relocation expenses.
However, the Australian government does offer specific Work and Holiday visas (subclass 462) for applicants from eligible countries. Allowing them to work and travel in Australia for up to 12 months. This visa is specifically designed for young people between the ages of 18 and 30 who want to experience living and working in Australia.
When looking for farm jobs in Australia, you may come across employers who are willing to sponsor workers, but they are likely to require you to have the necessary skills and experience in the agricultural field. Additionally, there may be some fees and charges involved when applying for a sponsored work visa.
It's advisable to research the specific visa requirements and regulations, as well as contact potential employers or recruitment agencies to inquire about visa sponsorship opportunities and associated costs.
Australia Farm Sponsorship Visa Plans:
When the government announced the agricultural visa, it aimed to offer the new visa to citizens of the UK and ten countries in the ASEAN (Association of Southeast Asian Nations) region.
Countries in the ASEAN region include: Thailand, Philippines, Singapore, Cambodia, Myanmar, Indonesia, Malaysia, Laos, Brunei, and Vietnam.
The visa will allow workers from the UK and the aforementioned countries to come to Australia to do seasonal agricultural work for three years and must return home for three months each year. According to reports, more countries could be added to this list by expanding the scope of visas to ASEAN countries.
In late 2021, the government published further specifics and stated that the program will be made accessible in phases, with only authorized firms and a limited number of employees eligible to utilize it in Phase 1. Here are the specifics on the two stages that have been announced:
Depending on border settings, nation preparedness, and quarantine availability, a modest number of agricultural worker arrivals may enter between December 2021 and March 2022 in Phase 1. Only a small number of existing Approved Employers who are already accredited and familiar with the existing Pacific Area Labour Mobility (PALM) Scheme will be eligible. The number of persons who can enter the country under the visa in Phase 1 is still being debated.
In Phase 2, beginning in April 2022, the program will be more generally available to companies. There will also be an increase in the number of workers eligible to join, as well as an increase in the number of nations participating.
What types of farm jobs are available in Australia with free visa sponsorship?
There are various farm jobs available in Australia with free visa sponsorship. Some of these jobs include:
Fruit Picking: Picking fruits such as apples, cherries, strawberries, and oranges.
Vegetable Harvesting: Harvesting and packaging vegetables like tomatoes, carrots, and lettuce.
Livestock Farming: Working with cattle, sheep, or poultry, which may involve tasks like feeding, herding, and general farm maintenance.
Dairy Farming: Milking cows, maintaining dairy equipment, and assisting with general farm duties.
Crop Farming: Planting, maintaining, and harvesting seasonal crops like wheat, barley, and corn.
Vineyard Work: Pruning, harvesting grapes, and assisting with winemaking activities.
Farm Management: Overseeing farm operations, supervising workers, and ensuring efficient farm functionality.
Farm Hand: Assisting farmers with various tasks such as fencing, irrigation, and machinery operation.
It's important to note that visa sponsorship availability may vary based on the specific farm, location, and government regulations. It's advisable to research and connect with potential employers or recruitment agencies who offer visa sponsorship for specific farm jobs in Australia
How long does the visa sponsorship typically last for farm jobs in Australia?
The duration of visa sponsorship for farm jobs in Australia depends on the specific visa category and the needs of the employer.
Generally, temporary work visas such as the Seasonal Worker Program (SWP) and the Working Holiday Visa (subclass 417 and 462) allow individuals to work in farm jobs for up to six months.
However, there are other visa options that may offer longer-term sponsorship, such as the Temporary Skill Shortage (TSS) visa or employer-sponsored visas, which could provide employment for several years or even lead to permanent residency. It is important to consult with the Australian Department of Home Affairs or a migration agent to determine the appropriate visa pathway and the duration of visa sponsorship for farm jobs in Australia.
Are there any specific qualifications or experience required for these farm jobs?
The specific qualifications and experience required for farm jobs can vary depending on the type of job, the specific farm, and the country or region in which it is located. However, here are some common qualifications and experience that may be required for certain farm jobs:
Farm Manager: Usually requires a bachelor's degree in agriculture, farm management, or a related field. Previous experience working on a farm, supervisory skills, and knowledge of farm operations, crop or livestock management, and financial planning may also be required.
Agricultural Worker: While formal education may not be mandatory, practical experience in farming or agriculture can be beneficial. Knowledge of crop cultivation, livestock handling, and general farm operations may be required.
Farm Laborer: Typically, no formal education is required, but experience in manual labor, such as working with animals, planting and harvesting crops, operating machinery, and general maintenance tasks, may be preferred.
Animal Husbandry Technician or Livestock Worker: Some entry-level positions may not require formal education, but experience in animal care and handling may be necessary. Knowledge about the specific breed, disease prevention, vaccination, and breeding techniques may also be required.
Crop Cultivation Worker: While formal education may not be mandatory, experience in planting, nurturing, and harvesting crops, knowledge of irrigation systems, pest control, and basic agricultural practices can be valuable.
It is important to note that specific qualifications and experience requirements can vary significantly between jobs and farming sectors. Many farm jobs may provide on-the-job training to develop the necessary skills and knowledge.
Can I bring my family with me if I secure a farm job in Australia with free visa sponsorship?
The ability to bring your family members with you to Australia depends on several factors, including the type of visa you hold and the specific conditions of your sponsor.

If you secure a farm job in Australia and your employer offers visa sponsorship, it is possible that you may be eligible for a visa that allows you to bring your family members. However, there are different types of visas with varying conditions and requirements.

For example, if you are sponsored under the Temporary Skill Shortage (TSS) visa (subclass 482), you may be able to include family members in your application. Similarly, if you are sponsored under the Employer Nomination Scheme (ENS) visa (subclass 186) or the Regional Sponsored Migration Scheme (RSMS) visa (subclass 187), you may also be eligible to include family members.

It is important to review the specific requirements and conditions of these visas to determine whether you can bring your family with you. Additionally, you should consult with the Australian Department of Home Affairs or a qualified migration agent for personalized advice based on your unique circumstances.
What are the living and accommodation arrangements for workers on Australian farms?
In Australia, the living and accommodation arrangements for workers on farms can vary depending on the size of the farm, location, and type of work. Here are a few common arrangements:

1. On-farm accommodation: Some farms provide on-site accommodation for their workers. This can include shared bunkhouses, cabins, or even converted houses. These accommodations often have shared facilities such as kitchens, bathrooms, and common areas. Some larger farms may provide separate living quarters for supervisors or families of workers.

2. Working hostels: Working hostels are popular in rural areas and serve as short-term accommodation for agricultural workers. These hostels offer communal living arrangements where workers share dormitory-style rooms, kitchen facilities, and common areas. Workers typically pay rent on a weekly basis.

3. Rental properties: Some farms may arrange rental properties for their workers, especially for long-term or skilled workers. The farm might own or lease nearby houses or apartments and rent them out to their employees. In these cases, workers are responsible for their own rent, utilities, and other living expenses.

4. Caravan or camping sites: In remote or seasonal work areas, farms may provide spaces for workers to live in their own caravans or tents. These sites usually have shared facilities like bathrooms, kitchens, and laundries. Workers bring their own accommodation, and rental fees are charged for using the facilities.

5. Share housing: In certain cases, farm workers may seek shared housing options with other fellow workers. This could involve renting a house or apartment together, sharing the costs, and splitting chores and responsibilities.

It's important to note that working and living conditions can vary significantly depending on the employer and region. Before accepting a position, it's advisable to inquire about the specific accommodation arrangements provided by the farm or employer.
What are the benefits of working on a farm in Australia with free visa sponsorship?
Working on a farm in Australia with free visa sponsorship has several benefits, including:
Visa sponsorship: One of the major benefits is that the employer provides visa sponsorship. Which allows you to legally work in Australia. This can be a valuable opportunity for individuals who want to gain international work experience and explore a new country.
Cultural exchange: Australia is known for its rich cultural diversity, and working on a farm provides an excellent opportunity to experience the local culture and interact with Australian farmers and workers. It allows you to immerse yourself in the local way of life and learn about Australian customs, traditions, and lifestyles.
Unique work experience: Farm work often offers unique experiences and exposure to rural life, which can be very different from an urban setting. You will have the chance to learn about agricultural practices, animal care, and farm management. This practical experience can be valuable if you are interested in pursuing a career in agriculture or related fields.
Outdoor and physical work: Farm work involves being outside and working in nature, which can be rewarding for those who enjoy outdoor activities. It offers a change from desk-based jobs and provides physical exercise while performing tasks like planting, harvesting, tending to animals, or operating machinery.
Income and saving opportunities: Farm work often offers competitive wages and with fewer expenses in rural areas. You may have the opportunity to save money. This can be useful if you plan to travel or explore Australia further after your work on the farm.
Networking and future job prospects: Working on a farm in Australia can help you build connections in the agricultural industry. These connections can be valuable for future employment opportunities or references, both within Australia and internationally.
How to find farm jobs in Australia with free visa sponsorship:
To find farm jobs in Australia with free visa sponsorship, you can follow these steps:
Research: Start by researching the different agricultural regions in Australia, such as Queensland, New South Wales, Victoria, and South Australia, as they offer a wide range of farming opportunities.
Government websites: Visit the official Australian government website dedicated to agriculture and employment. Such as the Australian Department of Agriculture and Water Resources. These websites often have job boards and resources for finding farm jobs.
Job search websites: Utilize popular job search websites like Indeed, Seek, or Gumtree to find specific farm job listings. Filter your search by selecting "sponsorship available" or "visa sponsorship" to narrow down your options.
Agricultural agencies: Contact agricultural recruitment agencies that specialize in placing workers in various farm positions across Australia. They can help connect you with employers who may be willing to provide visa sponsorship.
Online forums and communities: Look for online forums or Facebook groups where agricultural workers and farmers gather. These platforms often share job leads and opportunities, including those with visa sponsorship.
Industry events and job fairs: Attend agricultural job fairs or industry events where you can network with farmers and farm employers. They may have immediate hiring needs and be more willing to offer visa sponsorship.
Approach farmers directly: If you have a specific region or farm in mind, reach out to the farm owners or managers directly. Many farmers are in demand of labor and may be open to sponsoring a visa for the right candidate.
Remember that securing a job with visa sponsorship can be competitive. So it's essential to tailor your resume to highlight your relevant skills and experience in agriculture.
Conclusion:
International border restrictions have had a particularly negative impact on the agriculture business. Due to continued challenges in finding native Australians for labor in these areas. The sector has been reliant on foreign workers for many years.
Farmers have been clamoring for a specialized agriculture visa since 2016. But border restrictions have only helped to exacerbate labor shortages and put further strain on agribusinesses.
The newly minted Agriculture Visa is expected to give much-needed and urgent help to Australian farmers.
If you seek assistance on your company visa sponsorship possibilities for a Farm Worker Visa to Australia. Please visit the following website.
Also, Check out the Job in Australia with Visa Sponsorship Assistance Available in 2023.