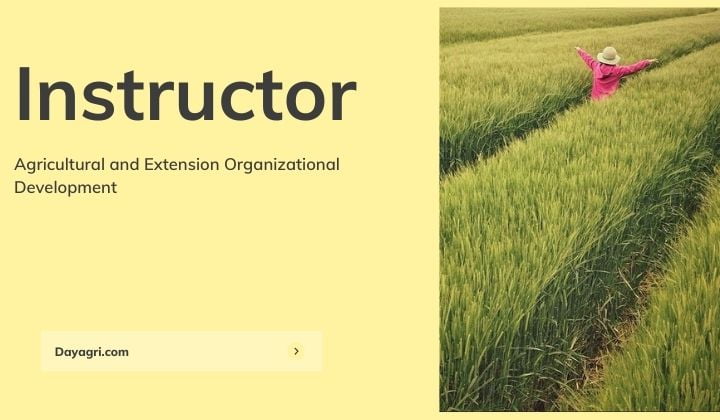 Farming Job: Instructor Agricultural and Extension Organizational Development
Company: LSU AgCenter
Location: Baton Rouge, LA
Application Deadline: January 01, 2022, or until a suitable applicant is found.
This is a 12-month fiscal year. The lecturer position has 75% appointments in the LSU Agricultural Center (AgCenter) campus management department, and 25% appointments in the Department of Agriculture and Extension Education and Evaluation (AEEE), which is owned by the United States. The Ministry of Agriculture jointly funded the AgCenter campus and LSU A&M Agricultural College. This position reports to the assistant vice president/project leader (or its designee).
Instructor Agricultural and Extension Organizational Development Requirements:
For tenure-track ranks, Ph.D. by start date, in Extension Education, Agricultural Education, or related discipline. Experience in conducting and publishing research and/or scholarly work.
For the Instructor rank, M.S. by start date in Extension Education, Agricultural Education, or other discipline related to the duties of the position.
Minimum of 5 years of related experience required.
Experience in conducting extension evaluations is highly desirable.
Desire land grant experience, experience with program evaluation, and demonstrated experience with data collection and management.
Strong interpersonal and organizational skills are essential.
Salary will be commensurate with qualifications and experience. LSU AgCenter has an attractive benefits package with a variety of benefit options. The benefits provided include retirement, multiple medical insurance options, supplementary insurance (dental, life, long-term disability, accident, vision, long-term care, etc.), college holidays (14 times a year, usually including a week of Christmas), generous annual ( Holidays) and sick leave benefits, employee assistance programs, and possible educational leave and tuition waivers for campus courses in the LSU system. The specific benefits depend on the type of job, the percentage of effort, and the length of employment.
Background check-The provision of employment opportunities depends on a satisfactory pre-employment background check.
Dr. Toby L. Lepley
Associate Vice President, 4-H Project Leader
Louisiana State University Agricultural Center
104 Norman Everson Hall
Baton Rouge, LA 70803
Phone: 225.578.4161
Email: tpleley@agcenter.lsu.edu
Apply online at https://lsu.wd1.myworkdayjobs.com/LSU (or through Workday for internal applicants.)Required attachments include a letter of application, CV/resume, and contact information for three references. It is preferred that a copy of your transcript(s) be attached to your application (if available). Original transcripts are required prior to hire.