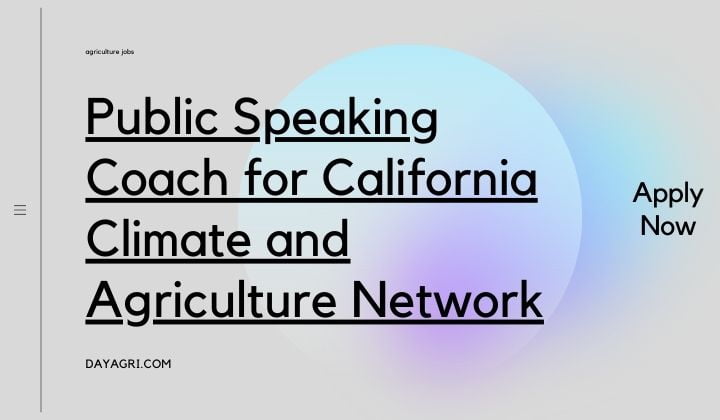 Agriculture Jobs: Public Speaking Coach for California Climate and Agriculture Network
Company: Volunteer · Associate
Location: Catchafire Oakland, CA
Role:
The California Climate and Agriculture Network (CalCAN) advances agricultural climate solutions through state and federal policies. We seek a broad transition to sustainable and organic agricultural systems that are increasingly resilient, environmentally friendly, and healthy, and provide climate benefits, protect our natural resources, maintain our food security, and contribute to the economy The vibrant agricultural community in Shanghai provides services and maintains our limited agricultural land.
Interesting facts about us
We work with some amazing farmers and ranchers who are the best soil and climate managers I know
What you will do
Personalized feedback and up to 5 tutoring sessions with one member of the organization
Records outlining members' strengths, weaknesses, and recommended next steps and/or resources
Extra details
I regularly show, promote, or participate in dozens of zoom conference calls every month to 1 to 50 people. Usually I will introduce our policy goals and plans. I want to improve my presentation skills and stop reading slide notes and my guiding skills, especially when the agenda does not go according to plan.
In the coming winter and spring, I will also organize and participate in 10-20 meetings with state legislators to promote sustainable agriculture.
Skills
Experience
Excellent writing, editing and public speaking skills
Experience coaching others to communicate effectively and deliver presentations
Experience in media relations
Availability
Works remotely from anywhere
20-30 hours over 3-5 weeks
Why You'll Love Volunteering With Us: Public Speaking Coach for California Climate and Agriculture Network
Enhance your skills while supporting a cause you care about
Gain samples of work & references to add to your portfolio
Directly impact a community organization on the ground
Work remotely & create your own schedule
Catchafire is committed to helping nonprofits affected by COVID-19 who need virtual volunteers now more than ever. Take a look at the projects we have available to see how you can help.